VILLAS AGUA DULCE
is an exclusive resort located on the edge of El Choco National Park, in Cabarete, Dominican Republic.
Delighted by the natural beauty and peace found in this beautiful place, we decided to join our know-how and experience to pursue our dream. After many years of consistent growth, we are proud to offer an amazing opportunity to invest in an exclusive region of the Caribbean.
The villa offers a cozy living area, a separate practical kitchen with breakfast area. Living room and kitchen open onto the deck to the pool, and give amazing views of the ocean and green spaces.
The living area of 203 sq.m. (2184 sq.ft.).
There are 3 bedroom and 3 private bathroom.
---
The complex offers new villas and construction personally for you.
Located on a hillside in the quiet suburb of the coastal town of Sosua with its restaurants, beaches, supermarkets and banks. 15 minutes from the unique bay and the city of Cabarete and 20 minutes from the international airport.
The complex offers new ready-made villas, the construction is personal for you. The usual construction time is 10 months if the customer has no additional requests and changes. Further you will see a catalog of options, in more detail - we will answer your request by phone or email. So,

A 1,907 Sq. Ft. two-bedroom villa, with all the comfort anyone could want. For an investor, a couple units could also be built around a common shared, large, swimming pool, offering multiple combinations to renters. YOU&ME has a main living room, two bedrooms on both sides of the central bathroom ( it is possible however to conceive the YOU&ME with two smaller bathrooms instead ), a fully equipped kitchen, built-in closets, a space for a washing machine and a dryer.
Starting at USD 199,990
---
VILLA "GOTA ELLIPSE"
The design of VILLA GOTA ELLIPSE offers, with its 2,768 Sq. Ft. of construction, all the comfort and space you need for four people. It has two bedrooms and two full bathrooms, a large living room with integrated kitchen, polished concrete floors and a laundry area. It has 2 bedroom and 2 bathroom.
---
16,600 Sq. Ft. lot surrounded by an abundance of nature and lavish tropical plants. It has a constructed area of 3,456 Sq. Ft., with 4 bedrooms and 4 bathrooms. The large living room, with an integrated kitchen is adorned with excellent quality ceramic floors. The pool size is 16,140 Gallons, with an infinity edge on one side.
Starting at USD 574,000
---
VILLA "PUNTA PARADISE"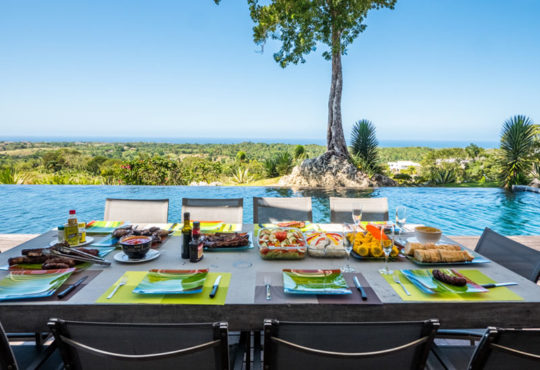 Is the largest and the most luxurious of our models and an excellent choice for those seeking comfort and space. The house has 6 bedrooms and 6 bathrooms, distributed over two floors. The main floor has four bedrooms with a spacious living room brightened by the Caribbean sun. The living room, through its large sliding doors, opens up to the deck and to the multi level swimming pool. You will find the other two Master Suites on the second floor and both have their private outdoor space on the roof top. 11,000 Sq.Ft. living space with fifteen foot ceilings. The swimming pool has 3 levels, color changing LED lighting, waterfalls and jets.
Starting at USD 1,395,000
---
Villa "Escape"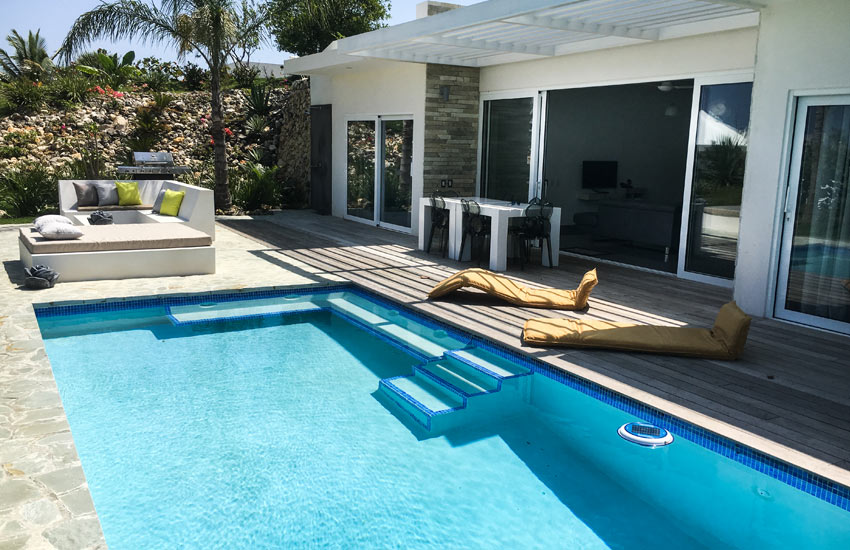 The 2,000 Sq. Ft. of Villa Escape is the most comfortable villa hosting up to four guests. The Villa has 2 bedrooms with king size beds and 2 full bathrooms. The fully equipped kitchen is integrated into the dining room, with a breakfast bar. The property's high ceilings provide cool environments, along with the 7,300 gallons swimming pool which is surrounded by a large, lush garden of tropical plants.
Starting at USD 270,000
---
Villa "Loma"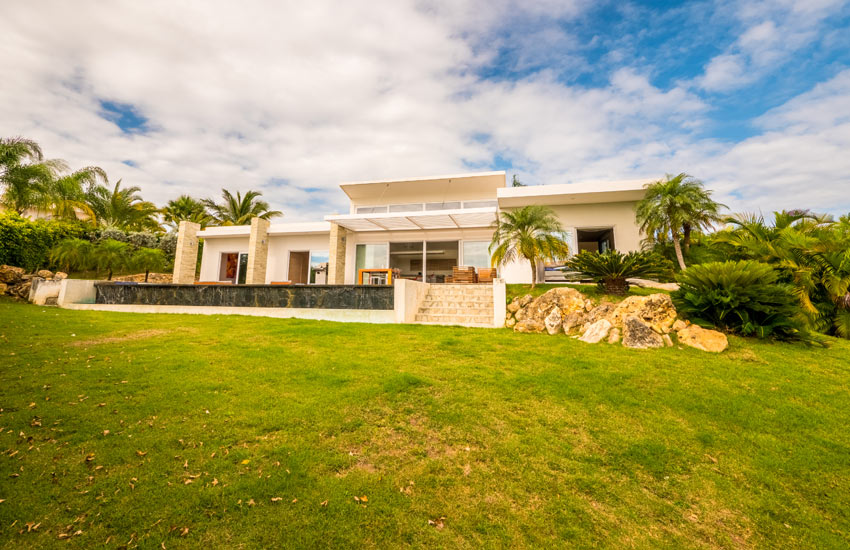 Is a L-shaped one floor villa bringing together comfort alongside incredible landscape. It has a large swimming pool surrounded by a high quality wooden deck. The 2,815 Sq. Ft. Villa has 3 bedrooms, 3 bathrooms and a large living room integrated with a kitchen and breakfast bar. Villa Loma is an excellent opportunity for those wishing to invest in the Caribbean as we offer to manage the rental throughout the year.
Starting at USD 462,000
---
VILLA "CORAZÓN"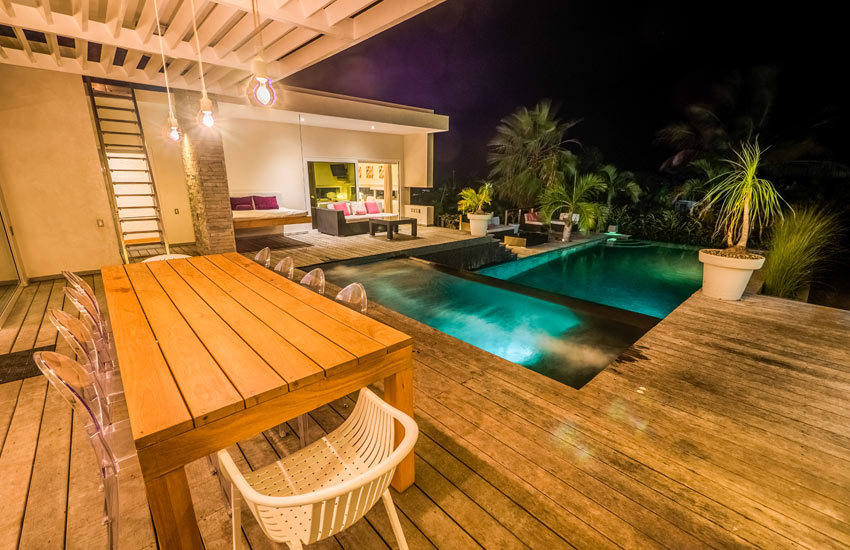 Is one of the largest properties in Villas Agua Dulce. It was built on a 13,423 Sq. Ft. lot with a covered area of 4,104 Sq. Ft. Villa Corazon boasts 5 bedrooms with ensuite bathrooms, a large living room with integrated kitchen, large windows overlooking the pool, a garage and parking for up to three vehicles. It has a remarkable pool built on three levels with waterfall and jets. There is a second living space including a kitchenette, private deck and an outdoor jacuzzi on the lower level.
Starting at USD 870,000
---
Villa "Carma"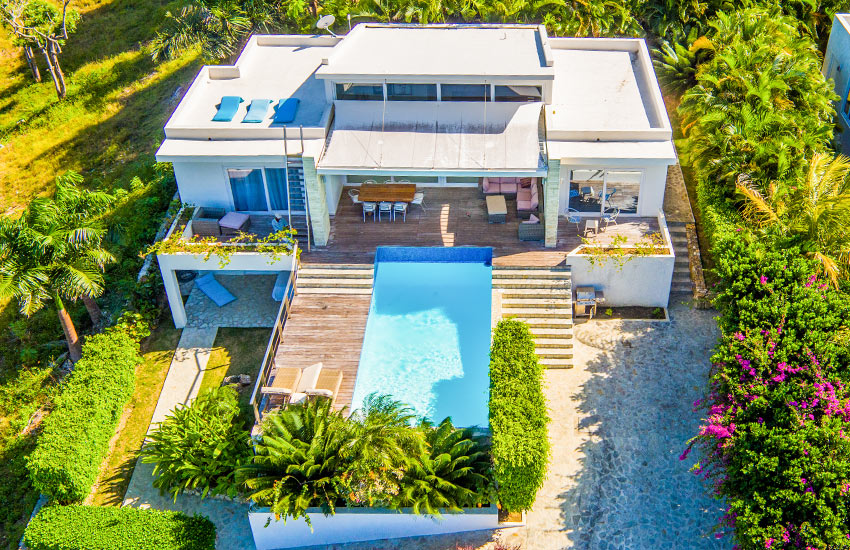 This spacious 3-bedroom villa sleeps up to nine people, and the rooms have private walk out decks. The main living space includes a dining room, TV area and kitchen. The dining area is directly connected to the main deck, which is fully equipped with outdoor furniture and an outdoor six feet pool.
Starting at USD 375,000
---
VILLA "DOLCE VITA"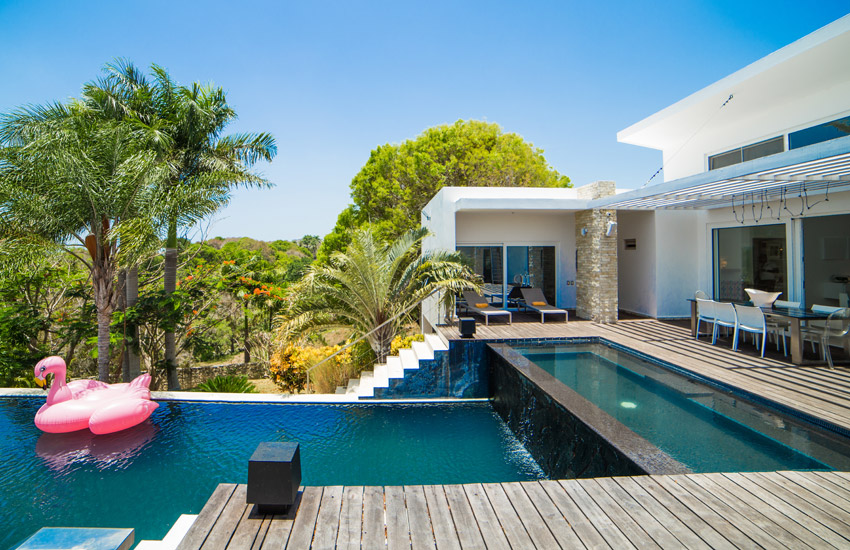 It has three huge yards connected with the main attraction of the villa: a three-level pool with an infinity view. The upper level of the pool has a hydromassage, the ideal complement to enjoy moments of relaxation. The ocean can be seen from Villa´s yards, the living room and the two main rooms.
Starting at USD 660,000
---